ODDS AND ENDS OF KJAY'S GARGOYLE UNIVERSE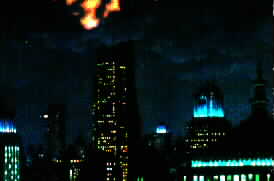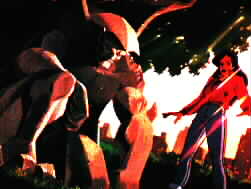 Welcome to the odds and ends page. In here, you will learn more about the places, people, groups,ect., that I put in my Gargoyle fanfics.
PLACES
Since I'm from New York City (Brooklyn actually), and Gargoyles takes place in NYC, I try to put scenes from real places in New York in my stories. Here is some info on some of these places.
THE MEATWARE HOUSE ON 13TH STREET AND WEST SIDE HIGHWAY
-USED IN THE PREDATOR PART 2
When I was in Manhattan one day, I actually did see some sort of a meat warehouse around 13th street and Westside Highway on the far west side of Manhattan near the village. That's where I got that scene from.
M AND T BANK
-USED IN THE NEO-PACK
M and T Bank is the name of a real bank I see around my area. But I don't think there is one on 35th street aand 7th avenue in Manhattan though.:)
SOUTH STREET SEAPORT
-USED IN THE SHIPMENT
Located near the very end of Manhattan, the South Street seaport is one of the well known sites in the city. From the Port, you can get an excellent view of the Brooklyn bridge, as well as the other major bridges in the city. You can also stop in the South Street Seaport mall and do some shopping. Also, the famous Fulton Street Fish Market is in this area.
THE TUNNEL
-USED IN THE SHIPMENT
A real night club located in Manhattan. In my fanfic, I said that the Tunnel was in upper Manhattan, but I think it's in lower Manhattan. All though I never actually been there, but from what other people have said, I heard that the Tunnel is a good club.
BEAR MOUNTAIN NATIONAL PARK
-USED IN FLED, ESCAPE, AND SURVIVAL
Bear Mountain was where Chante and Captain Chavez were when they was trying to find their way back to the city. Bear Mountain is located in upstate N.Y. (New York state), not far from NYC (about a 3 hour drive). The park has lots of camping sites, hiking trails, and picnic areas for anyone to enjoy. I don't know if there are actually bears there, because I didn't see one:) Chante and Captain Chavez could of enjoyed the park if they weren't busy running for their lives.
THE MUSUEM OF NATURAL HISTORY
-USED IN THE DIAMOND MATRIX
This musuem was where our famous blue diamond was being displayed. Located on 81st street, right near Central Park, this musuem covers everything from people, stars, animals, and up to diamonds and rocks.
---
OTHER STUFF
Sometimes I will put stuff in my fanfic that is real in real life.
THE ESU
-FIRST MENTIONED IN THE NEO-PACK
No Police force in a big city is complete without a SWAT team. The NYPD have their own speical SWAT-like unit called the EMERGENCY SERVICE UNIT, or the ESU. The ESU is not just another SWAT team. With ten ESU's through out NYC, the ESU handles situations that other Police Officers are not equipped to handle. They handle a range of situtions like, people threatening to jump from bridges or high buildings, to persons trapped in automobile wreckage. They also handle hostage situations, terrorist attacks, and bomb threats with help from the Bomb Squad. The ESU even handle things like trapped keys in cars, and getting trapped people out of elevators. And they been doing this for 70 years.
To get in the ESU, a NYC Police officer have to be on the force for at least 5-8 years. And after that, they have to go through training and pass, which is not easy. Out of every ten Police officers that try out for the ESU, only two will make it in (this is my estimation). Every cop that's in the ESU know's each other, and treats each other like family, sort of like a clan. The ESU clan:)
CLICK HERE TO SEE THE ESU PATCH
---
GO BACK TO THE HOME PAGE(ADVANCED)
GO BACK TO THE HOME PAGE(SIMPLIFIED)
---

You are the
person to swoop in on the Odds and Ends page since Augest 20, 1998.